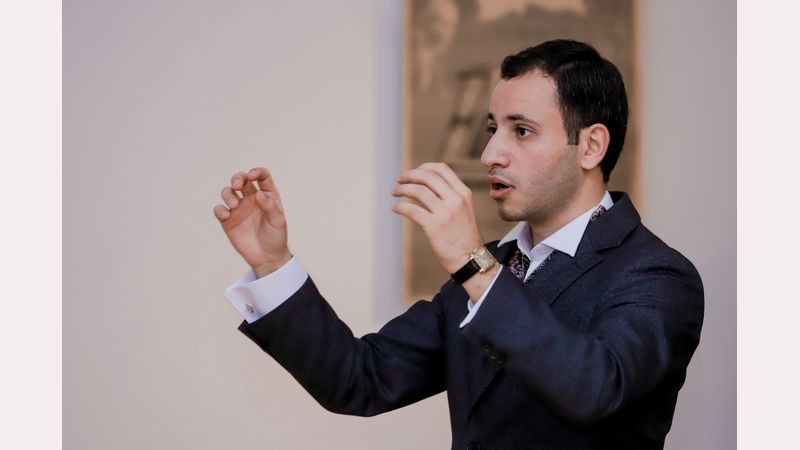 Gor Melkumyan
Gor Melkumyan was born in 1993, 16th of april in Yerevan, Armenia.
In 2006 graduated from musical school after Avet Terteryan. In 2008 graduated from musical school after Sayat-Nova, department of folk Instruments, and in 2011 music school after R. Andreasyan, the department of brass instruments.
In 2004-2010 performed in the Children's Philharmonic Orchestra named after Y. Bakshyan (from 2007 to 2010 was the leader of the orchestra). In 2011-2013 performed in the "Van Project" band, and in 2012-2013 in "Sasun" folk song and dance ensemble.
In 2013 graduated from Yerevan state pedagogical university, faculty of art education.
In 2018 graduated from Yerevan state Conservatory's Bachelor of Conducting and in 2020 received a Master's degree in conducting.
In 2010-2013 was a free listener at YSU philology lectures.
From 2012 is engaged in folklore gathering in the regions of Armenia, the materials are archived at the RA National Academy of Sciences. Participated in cultural research in Turkey.
From 2013 to 2015 implemented ցompulsory military service.
In 2014 participated in CSTO military exercises in Kazakhstan.
In 2012 founded, and till now manages "ARAR" choir. 2013-2015 founded and led the choirs of music schools in the villages of Koghb, Berdavan, Tavush region.
In 2014 founded and is still the President of "Renaissance" cultural NGO.
Since 2015 has been a member of the board of "ARARE" Armenological
Foundation.
He is a member of the "Armenian Choir Conductors" association.
He has given concerts in a number of cities in the USA, Europe, Russia and Persia.
Andin magazine's 1.01.2015, In the first issue published an article on national Ideology, "The ransom of our free salvation."
«Fr. Nietzsche: Embodied Music "article is published in 5/2 volume of Friedrich Nietzsche.
In 2020 compiled and published a collection of romances by Persian-Armenian conductor-composer Geora Minassian.
In 2018-2019 worked at music school after Sayat-Nova as a choir conductor.
Since 2018 has been working as the deputy director of the "Little Singers of Armenia" choir.